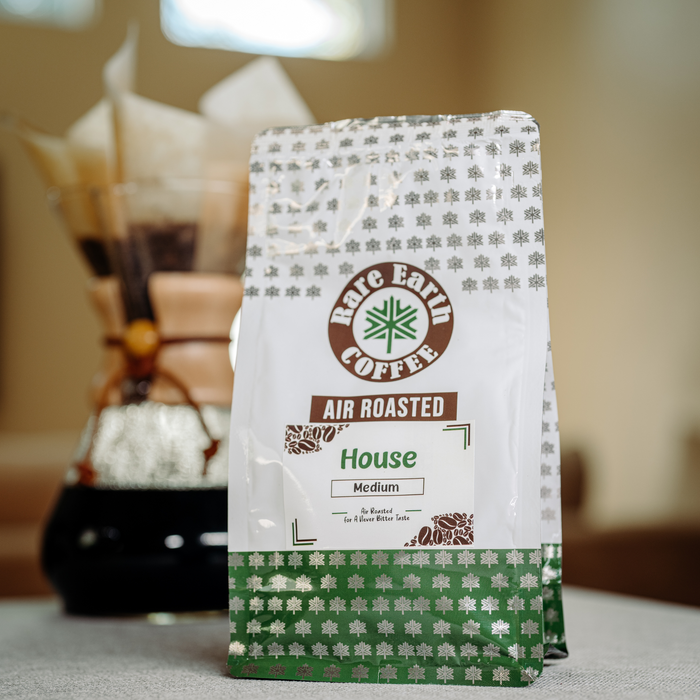 House Roast
Original price
$10.99
-
Original price
$10.99
This blend contains light notes of citrus with a crisp never bitter finish. 
Introducing Rare Earth Coffee's House Roast, a premium coffee blend that is crafted using Rare Earth's unique air roasting process. This process ensures that the coffee beans are evenly roasted and never burnt, resulting in a smooth and never bitter taste.
Our House Roast is made with the finest Arabica coffee beans, sourced from the best coffee-growing regions around the world. Our expert roasters carefully roast the beans using air roasting technology, which uses hot air to circulate the beans, ensuring a consistent and even roast. This process not only produces a smooth taste but also preserves the natural flavors and aromas of the coffee.
The result is a bold and rich coffee with a full body and a smooth finish. The House Roast has a well-balanced acidity and a subtle sweetness, making it perfect for coffee lovers who appreciate a delicious and satisfying cup of coffee.
Rare Earth Coffee's House Roast is the perfect coffee to start your day, to enjoy with a sweet treat or to sip while reading a good book. We are confident that you will love the smooth and never bitter taste of our House Roast, and that it will become your new favorite coffee. Try it today and taste the difference that our unique air roasting process makes!
Come see our master roasters in action at the Rare Earth Roastery.
587 Park Creek Drive Clovis, Ca. 93611