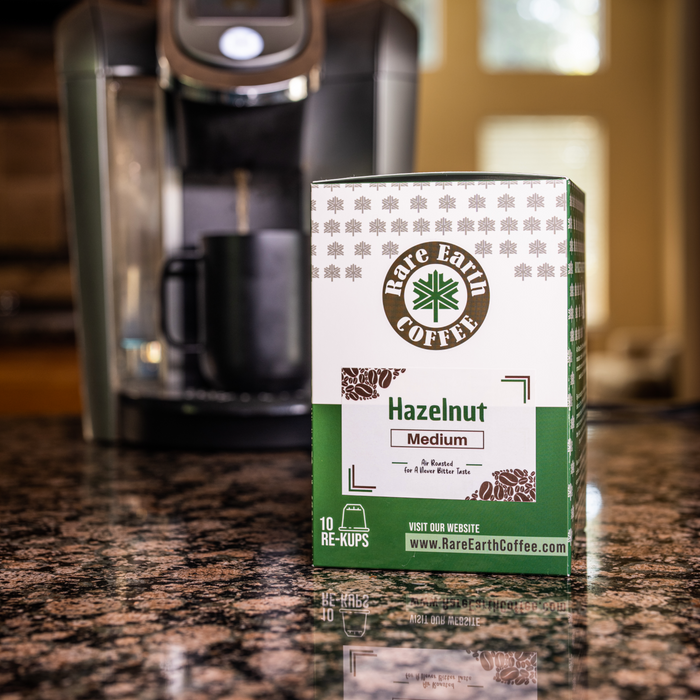 Hazelnut RE-Cups
Original price
$10.99
-
Original price
$10.99
Introducing Rare Earth Coffee's Hazelnut RE-Cups, our signature hazelnut flavored coffee now available in convenient single-serve pods for your single-serve coffee maker. Made with the finest Arabica coffee beans sourced from top coffee-growing regions, our Hazelnut RE-Cups offer a rich and creamy coffee experience that is sure to satisfy your taste buds.
Crafted using our unique air roasting process, our Hazelnut RE-Cups are made with our signature Bold roast coffee and infused with the sweet and nutty flavor of roasted hazelnuts. The coffee beans are carefully roasted to perfection, ensuring that the natural flavors and aromas of the coffee are preserved, while also creating a coffee that is never bitter or burnt.
Our Hazelnut RE-Cups are perfect for coffee lovers who enjoy the convenience of single-serve coffee pods without sacrificing the delicious flavor and quality of their coffee. Whether you're on-the-go or just want a quick and easy coffee at home, our Hazelnut RE-Cups deliver the same great taste and quality as our whole bean coffee.
The Hazelnut RE-Cups are compatible with most single-serve coffee makers, making it the perfect choice for those who want a delicious and convenient coffee experience. Simply insert the RE-Cup into your single-serve coffee maker and enjoy a rich and flavorful coffee experience in seconds.
Try it today and experience the rich and creamy taste of our Hazelnut RE-Cups, crafted with the same attention to quality and flavor as all our Rare Earth Coffee blends.
Come see our master roasters in action at the Rare Earth Roastery!
587 Park Creek Drive, Clovis, CA 93611.